Poinsettia highligts
Highlights of Poinsettia from Dümmen Orange 2020
by Martina Gerhards, Dümmen Orange 1/20/2020 3:00:00 PM
The extraordinary
Autumn leaves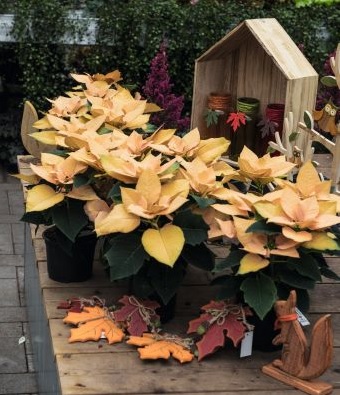 A very modern color, which suits every décor. Due to its earliness it can be used perfectly as a season opener, and brings the beauty of Autumn into our living rooms. With a good shelf life and excellent transportation Autumn Leaves arrives with the consumer still looking strong, healthy and eyecatching.
The combination of Low PGR requirements and our Greenguard Integrated Pest Management on the farm, hits the current development in our Industry.
Freya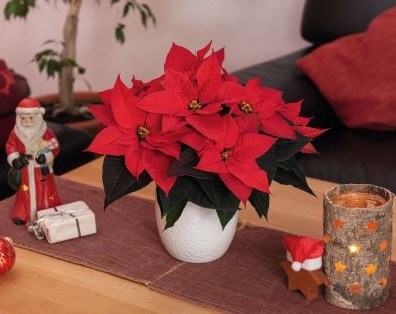 An extraordinarily intense red color, and is very suitable for growing in high volumes. It has a V-shaped structure, and allows cultivators to produce more plants per square meter with the same number of visible bracts compared to other varieties. Due to the V-shaped structure, putting them into sleeves is much easier, which can save packing time.
Freya is therefore a very economical variety and sustainable in production, with less resource consumption.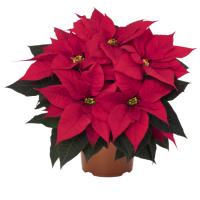 Dümmen Orange has restructured its poinsettia production to one large mother stock location, so that we can make sure that all cuttings meet same high production and environmental standards.
Greencare

Is our phytosanitary policy to deliver healthy and clean starting material to growers worldwide. The guidance to prevent, control and minimize phytosanitary risks from breeding to production.
Green Guard

We rely on the intensive use of beneficials to reduce chemical load to a minimum. We use them to control thrips and whitefly, for example. Our mother plants are resilient and the quality of the cuttings is outstanding.
Fairtrade

All our poinsettia cuttings carry the Fairtrade label, which imposes strict environmental standards. We comply all Fairtrade production rules, which range from hygiene to dealing with waste water. The share of the profit that must be used to benefit the employees at the production location is currently used to finance a subsidised food shop for the employees.
Product information
Freya is a NanoBract type, which means that all bracts are displayed on top. Freya convinces with a great V-structure and excellent branching which makes her ideal for reliable, high-density production. Together with dark leaves and bright red bracts she is a perfect performer under retail conditions.
Embla is very easy to pack and transport because of her upright bracts and the strong V-shape structure. Next to her bright red bracts she also convinces with a long sales window.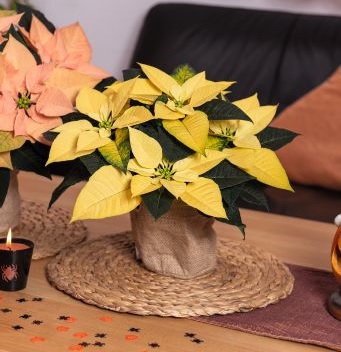 Be inspired by our special coloured highlight Golden Glo. Golden Glo shows a unique colour on the market with its bright yellow bracts, offering a nice alternative for colourful autumn and Christmas decorations. She is also an excellent choice for mini production.